At the time I interviewed supermodel Beverly Johnson on my SingleMindedWomen.com talk show, I'd been seriously thinking about my fibroids. Which is why I was thrilled to appear live on The Morning Show with Mike and Juliet to discuss them on May 5, 2009.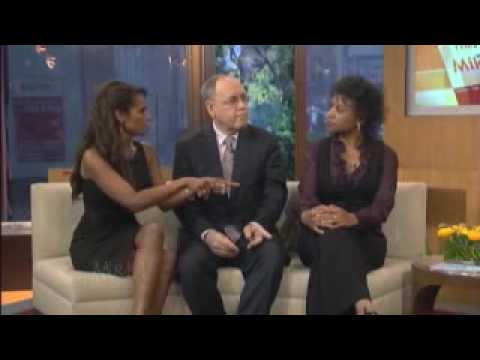 Since the day a few cherry-tomato-sized growths were discovered in my uterus 10 years ago, to the "innumerable" large tumors that fill it today, nearly every doctor has urged me to have a hysterectomy. And I have refused, since I have never had any symptoms – no pain, no heavy bleeding, no anemia, etc. Sure, there's the bloated feeling and the tummy bulge, but the possibility of complications from hysterectomy, myomectomy, uterine embolization, drug clinical trials, etc. was not worth it to relieve such minor discomfort.
I had an epiphany after being on the show, though. It occurred to me that, most likely, no doctor is able to answer my question: "By not having surgery, what damage can I be doing to my body right now?" I think it's likely that they can only predict – as they did 10 years ago – what might happen in the future, if/when major symptoms appear.
But, like Dr. Lisa Masterson of The Doctors told me, I do need to do something.
And I am. As I stated on the show, my MRI was a wake-up call — the sheer size and number of fibroids, coupled with the fact that they will continue to grow and multiply if I don't do anything, has spurred me to action. To, once again, actively research options — from holistic approaches involving diet and cleansing to Insightecsnew non-invasive procedure that uses ultrasound to destroy the tumors — and more.
And, as I talk to women, I'm amazed by the number who have fibroids or have had surgery. Do you — or a woman you know — have fibroids? If so, what's been your/her experience? I'd love to know.
Okay. That's enough serious stuff — you know I'm rarely serious on my blog.

Stay tuned for Part II of my Morning Show debut, where I'll share the exciting, light-hearted side of my trip.