SEX LOUNGE
A woman who hides behind fantasy
Manager Nichole Simms projects professionalism and poise at San Francisco's Talentz talent agency. But a more daring Nichole pens wild, sexually-explicit fantasies in a private notebook.
A man who lives firmly in reality
Famous chaise designer Derek Mitchell is all about business, with no time or interest in fantasy. Until he finds Nichole's secret book—and discovers he's the star.
An erotic book that turns fantasy into reality
Derek shows Nichole the pleasure of living the words, instead of writing them. But each sizzling kiss and scorching caress leads them to deeper—and more decadent—desires that neither knew they possessed. Read more
THE SIN CLUB Books
Night after night, Dr. "Love" urges listeners of his popular radio show, The Sin Club, to 'sin' – that is, to break the rules holding them back and go after what they want…what they need…what they truly desire… Read more
"The Firefighter Wears Prada" in MEN ON FIRE
Brave, bold, and dangerously sexy, firefighters are every woman's fantasy.
Meet three hot heroes in three different novellas who take scorching desire to a whole new level…
The Firefighter Wears Prada
When fashion designer Delta Ballantyne asks firefighter Evan Marshall to model her sexy line of men's underwear, she can't stop the sizzling fantasies running through her mind, beginning with sophisticated foreplay…and ending with the ultimate climax… Read more
"Out of Control" in SECRETS VOLUME 13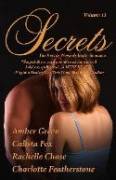 In "Out of Control," Astrid Thomas's world revolves around her business, Eventures, which is why she's hoping to pick up wealthy Erik Santos as a new client.
Only Erik is hoping to pick up something entirely different: A weekend trophy wife.
Will Astrid give in to seductive pull of Erik's proposition and do something she's never done before – be Out of Control for 48 hours? Read more
"To Kill A Thief" in DREAMS & DESIRES 2
Available from Amazon or Freya's Bower.
True love, freedom, money, danger…Dreams and desires of the ordinary woman, or man.
"To Kill a Thief" is just one of nineteen stories celebrating the attainment of all one can dream or desire.
By purchasing this collection, you can help turn someone's nightmare into the pursuit of dreams.
All net proceeds from every "Dreams and Desires" anthology purchased will go to a battered woman's shelter. Read more
"Romance For One" in DREAMS & DESIRES 1
Available from Amazon
or Freya's Bower.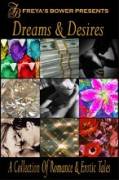 "Romance For One" is one of nineteen short stories featured this anthology.
All of the stories, editing, and cover art were donated to make this anthology possible.
All net proceeds from the sale of this book are set to go directly to a battered woman's shelter in Florida.
Thus, neither the authors nor the publisher will make a profit from the sale of this book. Read more