Books
MEN ON FIRE
Available at Barnes and Noble and other major bookstores, plus Amazon.com
and other online sites.
Brave, bold, and dangerously sexy, firefighters are every woman's fantasy. Meet three hot heroes who take scorching desire to a whole new level…
The Firefighter Wears Prada by Rachelle Chase
When fashion designer Delta Ballantyne asks firefighter Evan Marshall to model her sexy line of men's underwear, she can't stop the sizzling fantasies running through her mind, beginning with sophisticated foreplay…and ending with the ultimate climax…
Too Hot to Handle by Susan Lyons
Executive Jade Rousseau needs to find a fake fiancé to parade around her company's social events. When her friends bid on red-hot firefighter Quinn O'Malley at a benefit auction, Jade knows the man has to be hers – and she can't wait to feel the passion…
Playing With Fire by Jodi Lynn Copeland
Ever since Erica Donelson's ex-husband left her, his former best buddy, firefighter Lincoln Gabriel, has been there for her. But before long, their warm friendship heats up to a burning lust that won't be denied…
SIN CLUB
Available at Amazon and other online sites.
Night after night, his voice goes out over the radio waves, helping the lovelorn and the heartbroken. But Dr. "Love" takes his advice one step further, urging his listeners to take their lives into their own hands-and pursue what they desire…
ONE SIN AT A TIME…
Bored with a boring lover, determined to settle for casual sex, too focused on the sex lives of celebrities to worry about her own-Jessie, Sharice, and Alyssa are ripe for Dr. Love's advice.
>>Watch the book trailer
>>Learn more
SEX LOUNGE
Available at Amazon,
and other online sites.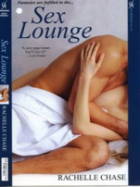 Manager of a San Francisco talent agency, Nichole Simms is poised, professional, and cool-but her private notebook reveals a much more daring woman who loves explicit, uninhibited sexual fantasies. Her dream lover is a secret.
Until he finds her notebook…
Famous chaise designer Derek Mitchell can't believe his eyes when he stumbles upon Nichole's secret book – in which he stars. Derek is hot to explore each sinful scene and every red-hot obsession with this demure, quiet beauty … and fulfill her every desire.
"To Kill A Thief" in DREAMS & DESIRES 2
Available from Amazon or Freya's Bower.
True love, freedom, money, danger…Dreams and desires of the ordinary woman, or man. From a battered woman rediscovering freedom to an actress finding more on a set than expected to a treasure seeker stumbling upon something else to a taxi driver in search of danger, this collection of nineteen stories celebrates the attainment of all one can dream or desire. Which one do you secretly yearn for?
By purchasing this collection, you can help turn someone's nightmare into the pursuit of dreams. Every year, four million women are assaulted by their partners. Freya's Bower, along with all the authors, want to help bring this statistic down to zero. To this end, all net proceeds from every Dreams and Desire anthology purchased will go to a battered woman's shelter. Through education and support, we can make a difference.
Authors (in alphabetical order of last name): C.T. Adams and Cathy Clamp, Jenna Bayley-Burke, Amanda Brice, Shannon Canard, Sela Carsen, Rachelle Chase, M.E. Ellis, Jenny Gardiner, Gemma Halliday, Candace Havens, Zinnia Hope, Babe King, Susan Lyons, Sarah Salway, Rhonda Stapleton, Bebe Thomas, Emily Veinglory, Lois Winston, and Shaunna Wolf.
Read an excerpt from Rachelle Chase's story,To Kill A Thief.
"Romance For One" in DREAMS & DESIRES
Available from Amazon
.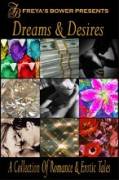 "Romance For One" is one of nineteen short stories featured in a charity anthology, DREAMS & DESIRES: A COLLECTION OF ROMANCE AND EROTIC TALES published by Freya's Bower. A compilation of nineteen stories, all of the stories, editing, and cover art were donated to make this anthology possible.
All net proceeds from the sale of this book are set to go directly to a battered woman's shelter in Florida. Thus, neither the authors nor the publisher will make a profit from the sale of this book.
The other authors of this anthology are (in alphabetical order of last name): Jenna Bayley-Burke, Faith Bicknell-Brown, Amanda Brice, Sela Carsen, Gemma Halliday, Candace Havens, Zinnia Hope, Jackie Kessler, Susan Lyons, Richelle Mead, Debbie Mumford, Rhonda Stapleton, Bebe Thomas, Emily Veinglory, Sasha White, Lois Winston, Shaunna Wolf, and Kit Wylde.
The anthology was released in electronic, paperback, and hard cover editions.
"Out of Control" in SECRETS VOLUME 13
Available at Amazon
, Red Sage Publishing and other online sites.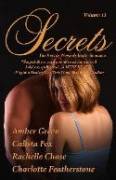 In "Out of Control," Astrid Thomas's world revolves around her business, Eventures, which is why she's hoping to pick up wealthy Erik Santos as a new client. Only Erik is hoping to pick up something entirely different: A weekend trophy wife. Will Astrid give in to seductive pull of Erik's proposition and do something she's never done before – be Out of Control for 48 hours?