News
I'm in Italy's Version of the Wall Street Journal
A photo of Mary Leo, translator Carla Calimani, and myself appeared in Italy's equivalent of the Wall Street Journal.
The delightful Elizabeth Jennings, author and co-founder of the awesome Women's Fiction Festival (which I paticipated in) in Matera, Italy, sent it to me.
Guest on The Morning Show with Mike and Juliet
At the time I interviewed supermodel Beverly Johnson on my SingleMindedWomen.com talk show, I'd been seriously thinking about my fibroids. Which is why I was thrilled to appear live on The Morning Show with Mike and Juliet to discuss them.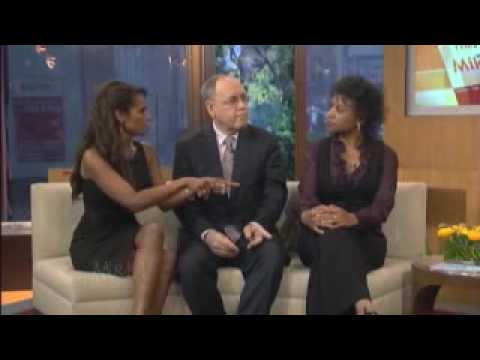 More information about fibroids – and my new cause – can be found here: http://rachellechase.com/fibroid-news/
My Advice is Posted on Low Carb Eating
I was thrilled to learn that my advice was included in the article, Coming Back to Low Carb After a Break. Once on the Low Carb Eating site, scroll down to my photo to see my tips.
My Dating Resolution is Posted on About.com
Stop by About.com and check out one of my resolutions that Bonny Albo included in her article, Top New Years Resolutions for Singles .
Guest Blogger at Lorelle@Wordpress
I was honored to be a guest blogger on Lorelle VanFossen's site. Using the SEX LOUNGE Finding Derek CONTEST as an example, I talked about the importance and challenges involved in making a site interactive. Please visit "What Inspires Your Readers to Interact With Your Blog" and "The Challenges of Creating an Interactive Blog."
A Double-Finalist in The Sheila Contest
Two of my women's fiction projects – RUNNING AWAY and TO CATCH A CHEAT – were finalists in The Sheila Contest.
I'd entered for feedback on these projects and was absolutely stunned – and thrilled – to discover that they had both placed in this competitive contest.
SIN CLUB on New Release Shelf
It was exciting to see SIN CLUB sharing "New Release" shelf space with bestselling authors Diana Palmer, Heather Graham, and Sherrilyn Kenyon.
So, I had to stop and take a picture of this at Barnes and Noble.
SEX LOUNGE Spotted in England
Author Saskia Walker snapped this photo of SEX LOUNGE on the shelves of a Borders in Leeds, Yorkshire – right above Saskia's KINK release. Cool, huh?
And, speaking of cool, SEX LOUNGE went into its second printing after being out a little over 6 weeks! That news made my month!
SEX LOUNGE on "The Lonesome Losers" SHOW
Terry and Todd have discovered the secret to romance and dating – by reading romance novels. SEX LOUNGE is used to provide expert guidance in episode #3.
And, speaking of The Lonesome Losers, check out the interview I did with Todd and Terry on "Chatting with Chase."
"Out of Control" Excerpted in Writer's Guide
An excerpt from "Out of Control", my erotic romance novella in Secrets Volume 13 is being used as an example on increasing sexual tension "… because of what the couple doesn't do" in On Writing Romance, by Leigh Michaels.
Web Site Awarded Siver Rose Award
In 2005, when I launched my original site, I placed third in the a contest which awarded prizes for the best web site.