'Sinning' T-shirt
Here's a fun way to encourage 'sinning.' A great conversation starter, for only you will know that you're talking about reading SIN CLUB series.
(Click on the image to order.)
Autographed Mirror and Necklace
To celebrate the release of both SEX LOUNGE and SIN CLUB this year, a lovely and talented artist, Renee Bergland of Monkapaws designed and created these absolutely gorgeous collage necklace and mirror pieces for me. Each item, which includes an original autograph by me, is handcrafted, making it a unique, one-of-a-kind piece.
Unfortunately, they are all gone and no longer for sale.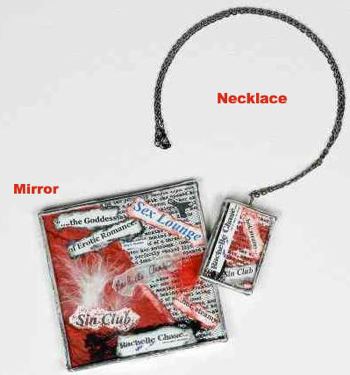 Photo provided by Aravind Krishnaswarmy of AK Imagery.